You are currently browsing the tag archive for the 'poetry' tag.
Some prayers are easy. And some…not so much. It is easy to pray for the unborn — little tabulae rasae of infinite potential — but not so easy to pray for those on death row, for folks on the fringes, for those who might not even want our prayers.
I cannot judge your heart.
You would not permit me,
even if I could. I am, as always,
at arm's length, the rain beating
its wet fists on the window. It will not
be let in. Even so, I know fear,
and fear is often where you live.
Let us meet then on common ground:
I wish you safe passage.
I wish you better than common sense
would grant you. I wish you endless
horizons, walkable on feet that do not tire.
I wish for you the thing you will never give to me,
and that is peace. It hurts to hold you.
It hurts to let you go. God speed.
Had you told me, back when I was a kid, that someday I'd be doing all my writing on a laptop computer, I never would have believed you. (Also, I would have asked, "What's a laptop computer?" Those were simpler times, folks.) Even during college, I wrote out all of my papers — no matter how lengthy — in longhand before typing them up. My brain-to-pen connection was strong. Nowadays, everything flows through my keyboard. Even prayers.
What is it
that emanates from you:
enters, moves and exits,
dances my digits
across lonely letters,
forming whole words,
little acts of creation —
a platypus, perhaps,
beaked but mammalian,
spare bits that somehow swim —
or a perfect petit four, iced
elegance, consumed in a gulp?
Is it the stuff of charlatans,
tapped alphabets, levitating tables?
Or is it you, yourself,
hunting and pecking,
posing a sort of code,
and do I even interpret one word in three?
Whatever this holy magic is,
please may it always be.
Is it me, or does the world seem particularly noisy right now? Arguments abound — about who's at fault in the government shut-down, about the kids from Covington, about how long a person ought to be able to last without a paycheck ("Just get a loan," says one out-of-touch billionaire), about whether and how quickly political events are dragging Venezuela and England and the US and Zimbabwe (and a whole host of other countries) to hell in a hand-basket. It's getting loud out there.
We cannot, of course, ignore current events. I mean, we can, but the minute we tentatively extend our ostrich heads out of the hole we've planted them in, the problems will still be there. Hiding won't make the news go away. But being quiet and centering one's self and getting away from social media (as Ruth has wisely done) can give us the space to get our heads together and form our own opinions. So —
Crawl into the smallest place in your mind,
the darkest, the most in-dwelling, and breathe.
Get entirely quiet with yourself.
Bring a book if you are uncomfortable with silence.
Turn inward on yourself until you are wrapped
securely in a sheet of inner tranquility.
Wait.
When you are ready, release yourself into the world.
You will be different —
one look at you and mouths will still.
This is a good thing.
Mary Oliver is dead. Maybe that name doesn't mean anything to you. It should. Mary was one of the greatest poets of our time, and if you aren't familiar with her work, I urge you — no, I beg you — to look her up. Her philosophy was that poetry shouldn't be fussy, a sentiment all of my favorite poets share. She wrote about nature largely, but in doing so also wrote about deeper matters, matters of faith and spiritual sustenance. Her poems were like the most joyous of prayers, little hallelujahs. The world is poorer without her.
To see the least of God's creatures
and view the universe in mandibles, pincers, paws;
to discover the very hue of God's eyes in
a field of wheat, winter leaf or sprig of mint;
to capture all high heaven in the upturned work
of furrowing ants — what small eyes you had
and yet, how large. You are seeing it all now,
at last, and how it must dazzle! Pray for us,
toiling poets, working our own furrows,
that we will see, despite the size of our eyes,
the real, the plaintive, the whirring of wings
that wend ever heavenward, wings of locusts
or angels. It is all the same.
I think 2019 is in cahoots with 2018. Dare I use the word "collusion"? It's largely my fault, I guess. Every year, I give my life over to God, and every year I end up trying to run things myself. It is an easy trap to fall into, especially since sitting around like a lump waiting for God to pick me up and move me remains a nonstarter. What does allowing God to direct one's life look like? And what is a soul to do when she cannot see the signs pointing the way? Write poetry, I guess.
For too long I've been onstage
listening for whispered cues —
"Never?" "Whether?" "Wetter?"
Can't the prompter's voice better carry,
especially as I've had no script to study?
Oh, my improv's improved over the years;
I've studied every school from Method to
Methodist. Faith informs my performance
but gives no stage directions. The audience is restive.
I see them thumbing rotten fruit. I don't want my end
to be ignominious hook, though I'll not ask for ovation.
Might the director step in? His lack of notes befuddles.
What I have is old, a blurred third-hand translation
of transcendent art, the only visible word, love.
This will not get the audience seated, let alone
feed the cast. Yet the play goes ever onward.
Scenes change, scenery shifts, the crowd holds its breath.
Line, please.
I understand that I'm not on your list, or anyone's.
Take me anyway.
I realize I don't fit right, run both too large and too small,
break easily and bolt through batteries like heartbeats.
Make me yours, despite it all.
Take me without bright paper or bows,
without tinsel or tags to distract from what is surely
not as dear as myrrh and nowhere near gold.
I've soiled the cloth you wove me of, that infantile innocence
that shone from my newly opened eyes.
Spin me anew.
May this white Christmas describe the state of my soul.
May I be the present under the tree.
May I be what is wanted:
fresh hay, animal heat, the company of shepherds,
pure and clean as a newborn star
nodding "yes" above a manger.
She was voted "Best Smile;" I was voted "Most Intelligent." We remained close after grade school, despite going to different high schools, because she worked in a department store I frequented. Whenever we saw each other, we'd chat as if no time at all had passed since graduation.
Reconnecting on Facebook was a shock. I expected my old friend; instead I saw awful caricatures of President Obama and hateful speech. When did "Best Smile" become…this? I stayed friends but shut off her posts, checking in every once in a while to see if anything had improved. It hadn't. Things eventually came to a head, and I had to unfriend her altogether.
This kind of division is becoming prevalent. Poetry, as always, becomes my voice.
You hear: up is down.
I hear: black is white.
Bedrock becomes liquid
and the oceans walkable.
When we cannot agree
on the color of the sky,
things have surely come apart.
We fire our pistols into the air,
heedless of the hail of bullets,
which, after all, have no
place to land but on our heads.
When the mad tea party ends,
we walking wounded
will have to speak, but how?
The alphabet is in ruins;
we are left with lines
in the dirt, crude gestures.
Only a devil could sow such discord.
Only God will loosen our lips.
Note: I know there are many people out there truly suffering this Thanksgiving — this post is not for you. A change of perspective won't mitigate your very real grief. Please know that the prayers and empathy of many, many people are with you this holiday season. Take care of yourselves!
Blessing myopia: The inability to see all the marvelous gifts in our lives because we are too focused on negative things that occlude our vision. I've certainly been guilty of this lack of awareness. Maybe you have, too? This Thanksgiving, let's shift our focus a bit.
There's lint in my pockets
but no holes, and my boots
(battered, worn) will last
another season. If I cut the frayed bits
off my jacket, no one will be the wiser.
I am fed, filled. I sink into bed
(the mattress little more than
dust mites tightly holding tentacles)
and sleep warm and well.
When I am cold, the cat comes
to sit; no blanket could be better.
There is sun somewhere,
even if I can't see it.
It will rise and set predictably.
The clock of my life will tick.
The sound will fill the hollow places,
joy will change the plain days
into something rather lovely.
Ordinary life will stop my breath
with surprise, and daily my heart
will croon.
They say the wise man knows he knows nothing.
Though I am not wise, what I know could fit
on the width of a dime, on the lean edge
of a knife, on an atom. With careful cursive,
I could inscribe my life's learning on the tittle
of an i. But what I know, I know boldly, down
to the soft center of my bones, a level so molecular
that the truth runnels into my porous soul
and mingles with my being. The truth is this:
Love is everything. It is quest and craft,
the only answer worth seeking, living and
dying for, chasing into strange lands and
distant ports. It is the only place to pin
your hopes, like stars on the blanket of the sky.
It is both work and worth of a lifetime.
But even greater: God is love.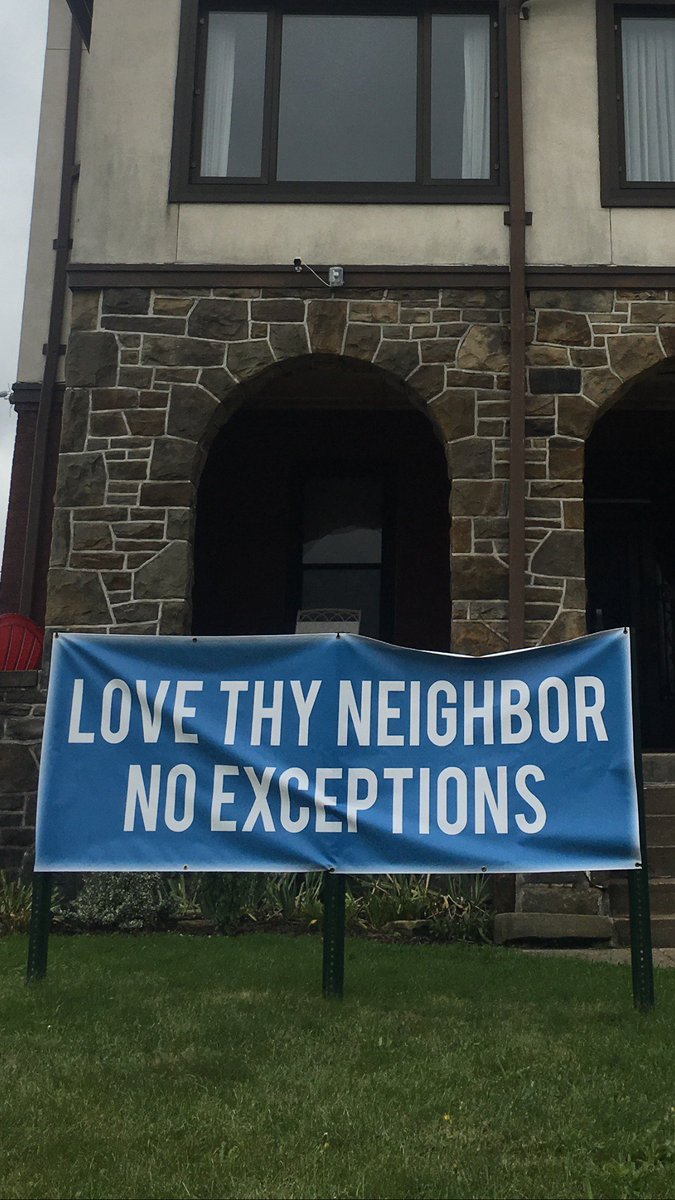 Tom Hanks tweeted this photo with the caption: "Again, to me this photo is the spirit of Pittsburgh- with a broken heart today for those in Squirrel Hill … Hanx"
On Twitter, most of the time, all I do is "Like" cat memes. So I was hesitant to press "Like" for a tweet by poet G. Calvocoressi, because their experience is so different from mine.
This poet inspired me during a MOOC (massive open online course) on poetry last year.
They wrote: "Full of love. Free of pronouns. Proud of this many gendered Vessel. Full of anger and fight and alive. Existing. Here. #TransRightsAreHumanRights #Resist."
How can I click "Like" on such a momentous, meaningful tweet, and in the next breath, "Heart" Curious Zelda?
Who am I? is what I thought.
This isn't my battle. I'm not a member of their community. Would it be seen as pandering? Not genuine? I thought about the old trope that posers use: "Some of my best friends are _________" Fill in the blank. Black. Gay. Jewish. Whatever group that person really disdains.
But the thing is….some of my favorite poets are members of the LGBTQ community: Carl Phillips, Danez Smith, Mary Oliver. So how can one express appreciation, even solidarity, when not part of the group in question?
By supporting their right to point out that the system isn't working on their behalf. In doing so, the gains they achieve might make life better for all of us.
I decided to press "Like." Everyone has the right to be treated with respect and live life on their own terms. Maybe in America, it doesn't feel like that notion is true, but I believe it will again someday. These may not be my issues, but one thing I know for sure: these are my neighbors.