You are currently browsing the tag archive for the 'The Golden Rule' tag.
Working at the pool in the summer can be a little crazy.  The outdoor pool is awash in kids off school for the summer and mom's looking to get them in the outdoors.  The indoor pools host classes and camp kids.
My son is a lifeguard at two indoor pools.  Recently, a new group of campers asked him about the rules.  "Walk, don't run.  And don't argue with me if I tell you to stop something."
Most of the kids were satisfied with this but one little worrier needed a bit more.  "What will you tell us to stop?"
"My job is to keep you safe.  Okay?"
"Yes, but. . ."
"And don't be a butt to anyone else.  Okay?"
Even the worrier was satisfied with this. Walk, don't run.  Stay safe. Don't be a butt.
With the addition of rule #3, he could cut loose and have fun.  But fun that involved being mean to other people was not allowed.  That seems like a pretty good way to reword the Golden Rule.
–SueBE
What if you woke up one day and realized your life had been brought to you by Comcast? Little did you know, you could've switched providers and had a better life. Wouldn't that be a shock to the system!
I've never been able to understand how anyone can claim ownership of the internet. Why are we paying companies to provide us with what really should belong to everyone for free?
An indigenous tribe in Ecuador won a landmark case against oil companies last week, preventing them from drilling in the Amazon rainforest. It took me a moment to wrap my head around that. This native tribe had to navigate the country's legal system when they have their own internal system of government. Then they had to ask permission to prevent interlopers from coming into their home and taking whatever they wanted.
Who owns the Amazon rainforest? Please don't tell me Jeff Bezos. Cuz I'll punch ya. And nobody would believe you if you reported me to the police. That Kindly Auntie? She would never! 🙂
We seem to find many inventive ways to do the wrong thing at the expense of other people, or of the planet. Let's designate a day where we do the right thing no matter what other people might get away with doing. We'll come up with a catchy name for it, let's see… we'll call it: Today. And let's extend it indefinitely and do it every day for the rest of our lives.
The blueberries I had with breakfast this morning were so big, they could've been plums-in-training! I was so amazed, I took a picture of them, putting them next to other fruit for perspective.
Now, you could look at that blueberry and say, Sure, you're big for a blueberry, but why can't you be as big as this Mandarin orange? Or this Pink Lady apple?
Berries can't conform to dimensions they can't possibly live up to. Why should they? They're perfect for what they are.
It might seem like we're in a big race with each other, based on the fact it's called "the human race," but that's not the case. We're all running, or walking, or meandering on our own pathway.
It's never helpful to say, "Why can't you be like the other…":
Students

Siblings

Employees

Believers

Writers

Runners

People somewhere in the world
Those others can do this thing well. Why can't you?
Comparing is actually a passive-aggressive way of trying to control others, as well as a quick-and-dirty way of deciding how to treat people. If you believe someone is not trying their best, you feel justified in mistreating them.
Remember: it's how you treat those you consider "the least among us" that really shows the world who you are.
You can't possibly know God if you don't treat people with respect. That's across the board. Even the people you think aren't trying.
If you're doing your best, why not assume others are as well? It might not be your best, but it may be the best they can do right now. And who knows? One day they might catch up and even surpass you. They'll remember you were kind to them as you raced past. Maybe they'll even offer you a Gatorade and some freakishly large blueberries!
In my day, sonny (cue nostalgic music), we used to quietly hold the world together with a pat on the back and a kind word. Nobody noticed but that one child who scraped his knee on the playground who we helped up. Or that person in the grocery aisle who couldn't reach a can on a shelf, so you got it for them.
As short as I am (5"4), there was an older lady even shorter. She couldn't reach the can of peas on the top shelf so she looked at it, looked at me, and tilted her head quizzically. She didn't have to ask. In fact, she didn't. She just knew a kind face when she saw it.
When my son and his friends were younger, they were amused by what one young man termed Ruth's Random Rules. One such rule is that when anyone sneezes, everyone is to say "God bless you." Don't believe in God? Okay, say "Gesundheit." Or "Salud." Even, "I acknowledge that you have sneezed and you are in the same general vicinity as I am; now I shall go back to ignoring you." Whatever you have to say — but in this home, young men, we shall be civilized.
Another one was that the boys were required to take our dog into the yard every hour on the hour. They thought they were doing me a favor and doing a nice thing for Sheena, which is true. But they were also getting exercise. I wanted to codify it so they had an excuse to take a break from the video game, a real reason to get out into the yard on a sunny summer day.
If you do your best and treat others with kindness every day, those small moments accumulate into a big bunch of blessings.
In a restaurant, crumbs on the table tell you that it hasn't been wiped clean since the last customers sat there. It could indicate that the staff may be so overworked and underpaid that they're cutting corners, trying just to get through the day. It might also give you second-hand insight into the state of the kitchen, where people you don't know are alone with your food. All of that energy is going into the entrée that ends up on your plate in front of you.
At home, crumbs on the counter tell you that whomever you share your space with (spouse, kids, roommate) isn't considerate enough of your feelings to clear the space once they've used it.
As someone with MS, I can process exactly one (1) bit of information at a time, and when you crunch the numbers (crumb pun!) crumbs are dozens (12s? Twelveses?) of pieces of information in a small space. If data comes at you as a stream, crumbs are the tiny rocks causing ripples in that stream. Knocking over the tiny tugboat.
This may sound melodramatic, but my brain receives crumbs as agents of chaos, disrupting the order of life. Okay. That really DID sound melodramatic!
It may not bother you, but if someone you care about says it bothers them? Why not take that tiny step to make it right? It's not too much to ask that you clean up after yourself if you share a space. Or turn the volume down if someone is studying. The Golden Rule isn't some lofty ideal. It's doing the right thing as a way of life. Being considerate in the small things is a big deal.
Isn't it true that everyone is attached to their devices all the time nowadays?
I suppose we'll all just have to accept the fact that, as a society, we're living virtually most of the time, even in groups and at dinner.
It might be a bone of contention among the generations, but it's the way of the world now. Of course, looking at the bright side, some people are using technology to make the world a better place, like the gamer who raised over $600,000 for St. Jude's Hospital by playing Fortnite, or the use of virtual reality to help people with mental health issues.
Still, I can't help relating to the grandparents in this funny ad from commonsense.org advocating a "device-free dinner."
Heck, before you know it, advances in technology will allow us to time travel. Maybe even create new species on our devices. Poof! I just made a giraffe with zebra stripes and the bill of a platypus. Why? Why not!
I'm all for expressing opinions and connecting with communities online, but it's easy to forget that the ones on the receiving end of mean-spirited tweets are human beings. Staying inside that social media bubble, it's possible to lose sight of the world outside it.
It won't be long before these times are called "the old days." Here's hoping we can all find a way to be with each other in a room and have a conversation, like they did in ancient times!
Looking for a picture to go along with this post, I typed in the search term, "Golden Rule." The result was the picture you see here: a ruler placed on a golden background. Oh, dear. Could it be that the younger generation has never heard this term before? Is it not being taught anymore?
Here's a little pun. Maybe in 2020, everyone will miraculously wake up with perfect vision. Even if we still have to wear glasses, there must be a way to fine-tune our vision to see that the words we say have lasting impact. If we all woke up on January 1st and made the resolution to speak kindly to everyone, we'd be looking at a whole new world.
Last week, UCLA gymnast Katelyn Ohashi went viral with this exuberant routine that earned her a perfect 10, but she had once quit the sport altogether. Nobody knew her struggle behind the scenes. Fans would tell her she "wasn't good enough" or "didn't look a certain way" and when she gained weight, she was compared to a "bird that couldn't fly." With fans like that, who needs enemies?
I gave up on social media this week after I realized its net effect (another pun!) on my psyche was negative more often than positive. It seems to be standard operating procedure for most to mock and provoke people who don't see things the way they do.
If something or someone in your life isn't building you up, it may be tearing you down. Let it go. You'll lighten your own load and see the world more clearly.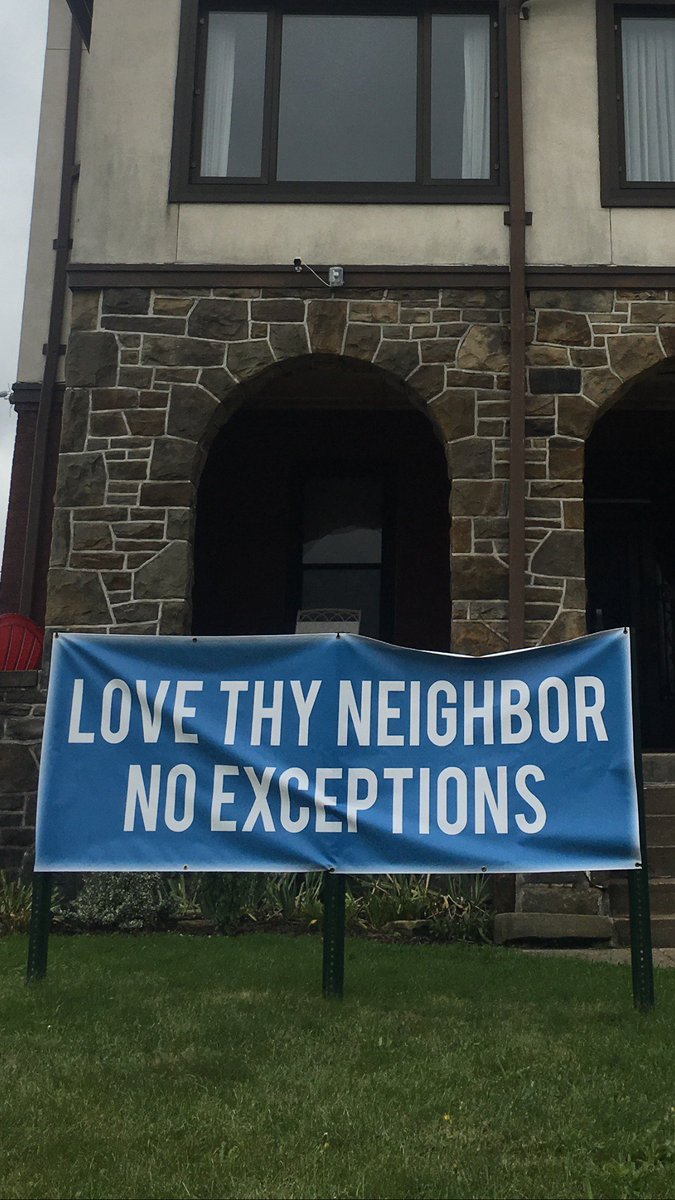 Tom Hanks tweeted this photo with the caption: "Again, to me this photo is the spirit of Pittsburgh- with a broken heart today for those in Squirrel Hill … Hanx"
On Twitter, most of the time, all I do is "Like" cat memes. So I was hesitant to press "Like" for a tweet by poet G. Calvocoressi, because their experience is so different from mine.
This poet inspired me during a MOOC (massive open online course) on poetry last year.
They wrote: "Full of love. Free of pronouns. Proud of this many gendered Vessel. Full of anger and fight and alive. Existing. Here. #TransRightsAreHumanRights #Resist."
How can I click "Like" on such a momentous, meaningful tweet, and in the next breath, "Heart" Curious Zelda?
Who am I? is what I thought.
This isn't my battle. I'm not a member of their community. Would it be seen as pandering? Not genuine? I thought about the old trope that posers use: "Some of my best friends are _________" Fill in the blank. Black. Gay. Jewish. Whatever group that person really disdains.
But the thing is….some of my favorite poets are members of the LGBTQ community: Carl Phillips, Danez Smith, Mary Oliver. So how can one express appreciation, even solidarity, when not part of the group in question?
By supporting their right to point out that the system isn't working on their behalf. In doing so, the gains they achieve might make life better for all of us.
I decided to press "Like." Everyone has the right to be treated with respect and live life on their own terms. Maybe in America, it doesn't feel like that notion is true, but I believe it will again someday. These may not be my issues, but one thing I know for sure: these are my neighbors.
Showing up as someone other than your true self can be wearing.
As long as I can remember (!) I've had trouble remembering things I've done, people I've met, conversations we'd had. So I learned to make up for it with humor and this unrelenting cheerfulness that has become a lifelong habit. In my 20s, I'd use the phrase, I had a senior moment there! when I'd forget basic things. Co-workers would laugh and say, You're too young to have those! and the infraction would be forgiven.
If I'd said, I don't know why I can't remember anything, and to be honest, it's kind of upsetting, it would've gotten a moment of discussion or a shoulder shrug, but you could only do that so often. People would assume you weren't applying yourself, or were just not that bright.
So most of the time I would flip a switch and turn into this upbeat version of myself, which meant I was always presenting a persona instead of being who I am. I needed to write lists of every task. Not a general to-do list, but pages of what I needed to do, checked off as I went. If it wasn't documented there, I honestly couldn't remember if I'd done it.
It was only after I was diagnosed with MS that I realized there was a reason for my forgetfulness.
It made me wonder: What is it we don't know about the people with whom we interact? Is everybody grappling with something? It's possible that someone in your life right now is feeling this way, but doesn't know how to express it, or where to turn to make it better.
Maybe we'll never know what others are going through. Assuming there's a story might be enough for our collective compassion to kick in.
With all the divisions in the world – in politics, between countries, even in families – it shouldn't be surprising that there are those who believe we should eliminate the population of certain species to save other ones.
There's author Jonathan Franzen, who believes that cats should be killed, since they kill birds. Then there are the scientists who have created a robot designed to kill the starfish that kill coral reef, so that the coral reef can provide food for other species (which, I assume, would also end up killing coral reef.) Others say that the starfish are a symptom and the real problem is port activity and pollution caused by humans. I don't think any of us would vote for eliminating humans to save the coral reef!
On a more sinister note, there are those who truly believe whole groups are inferior to their own people. The Rohingya in Myanmar have been the focus of a genocide carried out by the country's military. Leader Aung San Suu Kyi (a former Nobel Peace Prize laureate, yet) said recently that "the situation could have been handled better" but that "we have to be fair to all sides." Hmm. Where have we heard that before?
We're so used to looking through our own lens that we might not even really see each other anymore. Just a reflection filtered through our own worldview.
I can't believe it even needs to be said, but what do you say we take "extermination of entire populations" off the table, across the board? Of cats, of starfish. Certainly of people. Of others who espouse a different political ideology or religion. Let's all agree to this basic idea, and with any luck, eventually, we'll work our way back to the Golden Rule.