You are currently browsing the tag archive for the 'Mary Oliver' tag.
Mary Oliver is dead. Maybe that name doesn't mean anything to you. It should. Mary was one of the greatest poets of our time, and if you aren't familiar with her work, I urge you — no, I beg you — to look her up. Her philosophy was that poetry shouldn't be fussy, a sentiment all of my favorite poets share. She wrote about nature largely, but in doing so also wrote about deeper matters, matters of faith and spiritual sustenance. Her poems were like the most joyous of prayers, little hallelujahs. The world is poorer without her.
To see the least of God's creatures
and view the universe in mandibles, pincers, paws;
to discover the very hue of God's eyes in
a field of wheat, winter leaf or sprig of mint;
to capture all high heaven in the upturned work
of furrowing ants — what small eyes you had
and yet, how large. You are seeing it all now,
at last, and how it must dazzle! Pray for us,
toiling poets, working our own furrows,
that we will see, despite the size of our eyes,
the real, the plaintive, the whirring of wings
that wend ever heavenward, wings of locusts
or angels. It is all the same.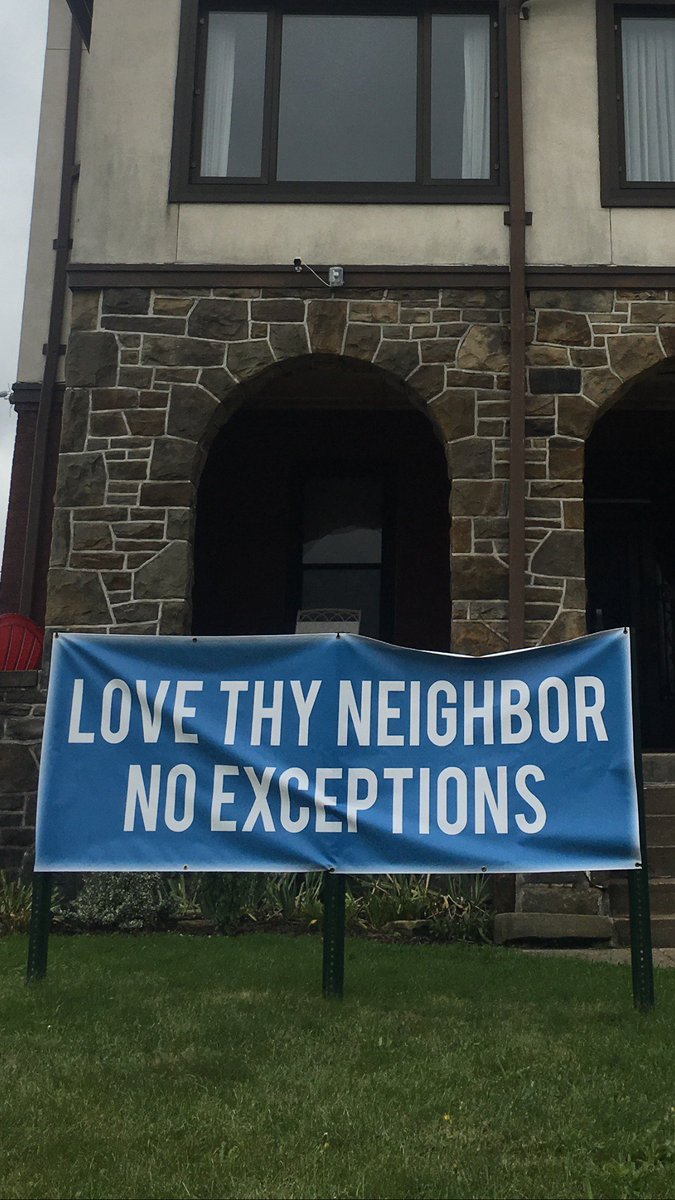 Tom Hanks tweeted this photo with the caption: "Again, to me this photo is the spirit of Pittsburgh- with a broken heart today for those in Squirrel Hill … Hanx"
On Twitter, most of the time, all I do is "Like" cat memes. So I was hesitant to press "Like" for a tweet by poet G. Calvocoressi, because their experience is so different from mine.
This poet inspired me during a MOOC (massive open online course) on poetry last year.
They wrote: "Full of love. Free of pronouns. Proud of this many gendered Vessel. Full of anger and fight and alive. Existing. Here. #TransRightsAreHumanRights #Resist."
How can I click "Like" on such a momentous, meaningful tweet, and in the next breath, "Heart" Curious Zelda?
Who am I? is what I thought.
This isn't my battle. I'm not a member of their community. Would it be seen as pandering? Not genuine? I thought about the old trope that posers use: "Some of my best friends are _________" Fill in the blank. Black. Gay. Jewish. Whatever group that person really disdains.
But the thing is….some of my favorite poets are members of the LGBTQ community: Carl Phillips, Danez Smith, Mary Oliver. So how can one express appreciation, even solidarity, when not part of the group in question?
By supporting their right to point out that the system isn't working on their behalf. In doing so, the gains they achieve might make life better for all of us.
I decided to press "Like." Everyone has the right to be treated with respect and live life on their own terms. Maybe in America, it doesn't feel like that notion is true, but I believe it will again someday. These may not be my issues, but one thing I know for sure: these are my neighbors.
It was love at first sight when I read this poem by Mary Oliver, and I've been sending it love-notes in my mind all day. She writes of her desire to be "upright and good," and thinks, "to what purpose?"
The next passage is just glorious:
"Hope of heaven? Not that. But to enter
the other kingdom: grace, and imagination."
It's hard not to relate it to what's going on in the world right now. Grace and imagination. Conversations online have been coarse and mean-spirited. Authority figures have been pointing fingers and throwing stones.
We're falling into the trap of thinking that we need to fight fire with fire.
That we cannot let it stand when someone says something we know to be untrue.
Neither side is listening. Both are engaging in alternating monologues. No one will be persuaded with this kind of rhetoric.
Imagination.
That word is so powerful, isn't it?
What can we build, just using our day-dreaming power? What if? Why not?
Grace.
That's the word that truly holds the world together.
Just for today, imagine you're sending that tweet out to someone you find reprehensible and you really unleash and unload. What if…by chance… it ends up in God's inbox? There's no witness protection program that can get you out of that jackpot!
Imagine the grace that would explode if we reached out to an enemy the way God held his hand out to us when we were at our lowest point. If we all turned the other cheek at the same time, we'd see the humanity – and the divinity – in each other, perhaps for the first time. That's where the other kingdom resides.