You are currently browsing the tag archive for the 'love your neighbor as yourself' tag.
Meeting new people at a party or other gathering can be intimidating. Maybe there should be a "Skip Intro" button to bypass those awkward introductions, like they have when you're binge-streaming shows on Netflix.
The only problem is that we might just end up "auto-populating" — making assumptions based on where people are from or what kind of accent they have. 
This is what crossed my mind as I was driven home from an appointment by a ride-share driver who spoke no English. When I opened the door to get into the car, he hurried out of the driver's seat and held my door for me. He nodded toward my bags, indicating that he would put them into the car for me. I smiled back in thanks.
No translation was necessary. This was just a kind young man doing his best in a world that's new to him. Just trying to make a living.
We rode together in silence, and I remembered that I had taken Spanish in high school, so maybe I'd try to say something pleasant to him in Spanish as I got out of the car. Then I realized that it's been so long since I was in high school, it's entirely possible the language has evolved and now I'd be speaking gibberish! 
I decided to take the plunge in a spirit of goodwill and said, "Buen fin de semana," hoping I'd actually said, "Have a good weekend." He smiled broadly and tried his hand at cross-cultural communication. "Happy Valenteem's Day," he said. "Oh, thank you, son!  You're the first one to tell me that today!" He didn't understand me, but knew I'd said something positive in return.
It was a gentle reminder that, even if you "Skip the Intro" with people, there's always a story there, and it's one worth hearing.
Imagine that you haven't eaten much for days. It's the end of long night, and you're exhausted. You look up and realize there's a building on fire! By the time you call for help, it might be too late. What would you do?
A group of young Muslim men who had just left their mosque for Ramadan service ran into a burning building, risking their lives to knock on every door until all the residents were safely outside.
One of the residents told the press, "They made sure everyone got out. They knocked on each door until someone opened. If it wasn't for them we would never have got out."
I saw this news story on Reddit, and was puzzled as to why I couldn't find it anywhere else online. It's a feel-good story with heroes and a happily ever after. People of different generations and faiths coming together in the midst of a crisis.
The conspiracy-theorist in me is wondering: Why isn't this in the headlines? Is it because it's a story about Muslims that doesn't feed into the negative, erroneous view some may hold?
Most people are peaceful and want to do the right thing. If only we'd see each other as relatives in the human family, labels and misconceptions would be a thing of the past.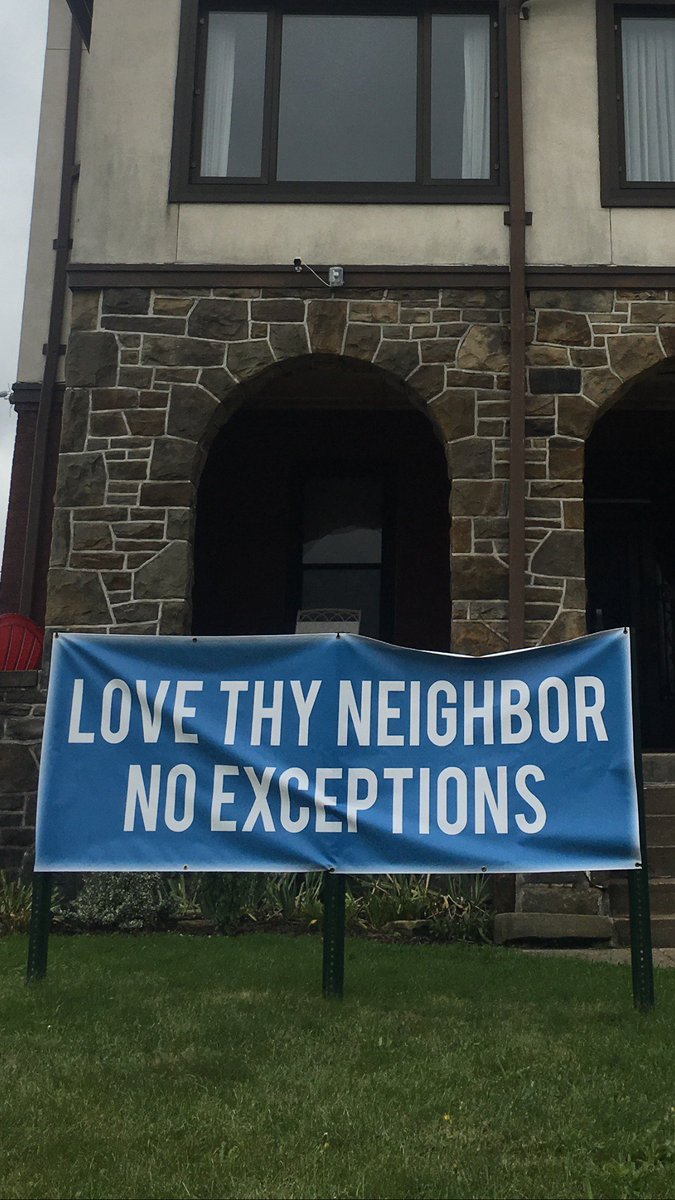 Tom Hanks tweeted this photo with the caption: "Again, to me this photo is the spirit of Pittsburgh- with a broken heart today for those in Squirrel Hill … Hanx"
On Twitter, most of the time, all I do is "Like" cat memes. So I was hesitant to press "Like" for a tweet by poet G. Calvocoressi, because their experience is so different from mine.
This poet inspired me during a MOOC (massive open online course) on poetry last year.
They wrote: "Full of love. Free of pronouns. Proud of this many gendered Vessel. Full of anger and fight and alive. Existing. Here. #TransRightsAreHumanRights #Resist."
How can I click "Like" on such a momentous, meaningful tweet, and in the next breath, "Heart" Curious Zelda?
Who am I? is what I thought.
This isn't my battle. I'm not a member of their community. Would it be seen as pandering? Not genuine? I thought about the old trope that posers use: "Some of my best friends are _________" Fill in the blank. Black. Gay. Jewish. Whatever group that person really disdains.
But the thing is….some of my favorite poets are members of the LGBTQ community: Carl Phillips, Danez Smith, Mary Oliver. So how can one express appreciation, even solidarity, when not part of the group in question?
By supporting their right to point out that the system isn't working on their behalf. In doing so, the gains they achieve might make life better for all of us.
I decided to press "Like." Everyone has the right to be treated with respect and live life on their own terms. Maybe in America, it doesn't feel like that notion is true, but I believe it will again someday. These may not be my issues, but one thing I know for sure: these are my neighbors.
With all the divisions in the world – in politics, between countries, even in families – it shouldn't be surprising that there are those who believe we should eliminate the population of certain species to save other ones.
There's author Jonathan Franzen, who believes that cats should be killed, since they kill birds. Then there are the scientists who have created a robot designed to kill the starfish that kill coral reef, so that the coral reef can provide food for other species (which, I assume, would also end up killing coral reef.) Others say that the starfish are a symptom and the real problem is port activity and pollution caused by humans. I don't think any of us would vote for eliminating humans to save the coral reef!
On a more sinister note, there are those who truly believe whole groups are inferior to their own people. The Rohingya in Myanmar have been the focus of a genocide carried out by the country's military. Leader Aung San Suu Kyi (a former Nobel Peace Prize laureate, yet) said recently that "the situation could have been handled better" but that "we have to be fair to all sides." Hmm. Where have we heard that before?
We're so used to looking through our own lens that we might not even really see each other anymore. Just a reflection filtered through our own worldview.
I can't believe it even needs to be said, but what do you say we take "extermination of entire populations" off the table, across the board? Of cats, of starfish. Certainly of people. Of others who espouse a different political ideology or religion. Let's all agree to this basic idea, and with any luck, eventually, we'll work our way back to the Golden Rule.
Mother's Day started with a power outage this morning around 9 AM.
Hm. Looked at my phone. Only half charged.
Can't use the internet.
I'll read my books on Kindle. But… no service. My books are in the cloud.
Well. I'll go start my coffee.
But. No water.
Hm. Oh wait! I saved my coffee from last night. It's in the fridge! Yay.
But. No microwave.
Getting chilly in here. Let me turn up the heat.
But. No heat.
So I went back to bed to bundle up. Just then, I heard a car pulling into my neighbor's driveway, music blaring. Man, that's loud. What an idiot. Had to catch myself there. No need to be unkind.
It reminded me of the time my father was teaching me to drive. "Watch the idiot," he said, as another driver encroached on my lane. I had to laugh at the memory. He was always glad to see me when I would visit the house. And my mother would greet me by saying, "You're the greatest!"
It's fitting that this happened on Mother's Day, as we all have a mother (here or in Heaven) and we often take for granted how much she means to us.
In today's climate, just reminding yourself not to be unkind is an act of kindness. Usually, people aren't blasting their music to annoy you, but to enjoy their own life. The power goes out sometimes. It's nothing personal.
This was a gift to me today. A reminder to appreciate the power, all the way up to the power source.
Do something today to show appreciation for all that God provides.
Or at least, don't be an idiot.🙂You're lucky, and you know it. This is a good day to remind yourself of the blessings you take for granted.
Tell me about a complicated man.
Muse, tell me how he wandered and was lost when he had wrecked the holy town of Troy, and where he went, and who he met, the pain he suffered in the storms at sea, and how he worked to save his life and bring his men back home.
He failed to keep them safe; poor fools, they ate the Sun God's cattle, and the god kept them from home.
Now goddess, child of Zeus, tell the old story for our modern times.
Find the beginning.
These opening lines of Emily Wilson's translation of "The Odyssey" struck me like a lightning bolt.
Some critics believe that her choice of words may affect the classic's meaning.
"I want to make them see that all translations are interpretations," she said.
The same can be said of the Bible. People curate specific texts and tailor them to pet peeves. Maybe they want women to "stay in their place," so they quote Ephesians 5:22. They cherry-pick passages to berate gays, immigrants, trans people. You know. Anybody they don't want in the neighborhood.
I was amazed to read an article about priests trying to deter annoying parishioners from becoming part of their church.
Sometimes we're not even aware that we treat people who are different from us, well, differently.
It doesn't take much to create a compassionate community. Just an open door. A kind manner. A heart for humanity.
It's trusting that God knows what he's doing. In a nutshell, it's a timeless story with a happy ending. Here's hoping it doesn't get lost in translation.
Despite my beloved mother's best efforts (God rest) and the hours she put in playing Bach on the piano, I'm still nowhere near as cultured and refined as she was. She'd quote Chaucer for me, in middle English. She'd school me on the origin of words.
Still, I'm just an easily-distracted, uncultured, good-natured gal from New Jersey.
Doesn't matter if I'm looking right at you as you tell me your long-winded spiel. In my mind, I've gone to Carolina.
Watching this video of Hilary Hahn, I was reminded of my mother playing Bach on the piano.
I'm amazed at how beautiful even one note can sound in the right hands. At the same time, I'm also utterly distracted by the fact that her producer looks like a combination of Fred Mertz (of I Love Lucy) and Cheech Marin (of Cheech and Chong).
Then I realized that her conductor looks like Art Garfunkel (of Simon and Garfunkel). 😎
So whilst (little faux fanciness for ya) I try to be good at culcha, alls I can really do is appreciate it in my own New Jersey way. I'll never have tea with the queen, p'raps, but I like to spin a yarn and have a good laugh.
I noticed that when Hahn plays, her whole body moves in a particular choreography. It's as if she knows that she can't reach the notes with her hands unless her feet move in a certain way at the same time.
Her whole body is her instrument.
In the same way, your whole life is your testament.
Most of the people you meet would never stand still and let you convert them to your beliefs.
All of the people you meet are seeing, hearing and feeling your beliefs every time you speak.
With all that's going on in the world, all I can do is offer you this cozy corner where you'll always be welcomed like a friend and we can share our stories. I don't care who you are or where you're from, kind people. You're okay with me.
Justice is not "just us."
It's everyone.
It's every one
doing what that one can
and eventually, it is all of us, together.
So it really is just us. There is no "them."
You and me again become we.
Step one: take one step.
Well, if you read the news these days, it's discouraging, but there are still good people in the world doing positive things.
Like this flight attendant who saved one young girl from a sex trafficker and this tightrope walker who saved one man stuck in a ski lift.
These individuals didn't save the whole world, they saved one person. Just one. But that one person really matters. To their friends, to their families. To God.
Both of these things happened in mid-air, so there was no other way to get help. Sometimes God puts a person uniquely equipped to save the day in exactly the right place.
We've all seen the protests, picket signs and caustic comments online. There are small pockets of positive resistance forming out there, waiting to connect with each other and spread peace instead of discord.
With all of the drama going on, that may be where the next groundswell sets in. Singular acts. Small gestures. Just you. Just me. Just us. Being neighborly. Keeping our words civil. Treating each other like extended family.
Hopefully, the next hashtag that catches on will be #JustUs. We're all in this together, and there really is no Us Versus Them. We're all "Us." U.S. We all live here. We all belong here. We don't all have to agree, but we can get along if we all agree to try.
Even aliens – and by that I mean, from outer space – should be treated humanely. The other type of "alien" doesn't really exist. We all came from somewhere else. Now we're here.
Post-election, my vote is to get past this ugly chapter and get on with the "one nation under God" thing. It's time to put aside those weaponized words and meet each other as human beings with healing hearts. Somebody's got to take the first step.
Luckily, I heard the words in my head before they made it out of my mouth, blocking them at the very last moment – like a "No-You-Don't!" Ninja.
This is what I almost said to an acquaintance: "'Course it's her own fault. Can't drink like a fish and smoke like a chimney and think you'll dodge the bullet forever!"
A dear friend was sick in the hospital and I was concerned about her, so of course, I tore her down in my own mind and nearly engaged in a form of germ warfare. Because, truthfully, such words are toxic, even infectious.
It may well be that we judge others to deflect the spotlight from our own unchecked boxes.
◘ Never finished that college degree
◘ Never got that promotion
◘ Never found that soul mate
Perhaps we feel so small in a vast universe that we subconsciously seek to squash others – like bugs on the sidewalk in our way, when we could easily step around them – that we steamroller over their humanity, their beauty, their divinity, and focus solely on the things they failed to do.
We do the math in our heads and assume that we can subtract from others while adding to ourselves. It really doesn't work that way. It detracts from us both. From us all.
If I were to say anything, it should be something like this.
You've been through so much in your life, and I've long admired your determination. You've watched out for me like family from the minute I moved into the neighborhood. If there's anything I can do to encourage you to take steps to improve your health so I can have you around as a friend for many years to come, I'll be here for you.  
There's only one surefire way to safeguard your soul and clear the air pollution of thoughtless comments: put a spiritual Ad-Blocker on your words.
Scanning the headlines this week, I found myself leaping to conclusions and making assumptions. Before I knew it, I was psycho-analyzing public figures I don't even know.
Governor Paul LePage of Maine found himself in hot water last week when he left a profane, threatening voicemail for a Democratic lawmaker. He's ignited a lot of controversies lately, most of which are exacerbated by his brash style. I came to the conclusion that LePage was still fighting battles from his hardscrabble childhood. Okay. Figured him out. Next subject.
Flipped over to the Entertainment Section and read that actress Blake Lively had a baby shower that singer Taylor Swift attended. Hmm. That Taylor Swift has been collecting famous friends for years now. Probably a direct result of Kanye West ruining her VMA award moment.  Must be trying to prove that people really do like her. Okay. Figured her out. Next subject.
Of course, it did occur to me that these are people I've never met, and never will meet. The only "facts" I've got at my disposal are those found on the internet. I have no degree in psychology, so everything I'm assuming is just my own best guess.
One of my favorite sitcoms is The Odd Couple with actors Tony Randall and Jack Klugman. In one episode, Randall's character, Felix Unger, says, "Never assume. When you assume, you make and ass out of u and me."
We all make assumptions about each other, but we don't know the whole story. It's a good idea not to take our own meanderings too seriously. Lest we forget, people are making assumptions about us, too.
So even as I find myself putting on a judge's robe that I never earned and banging a gavel in my own mind, I'll also send up a quick prayer. "Bless them," I'll ask. "And forgive my little lapses." I'm more grateful than ever that God's grace is such a big umbrella!