You are currently browsing the tag archive for the 'LGBTQ' tag.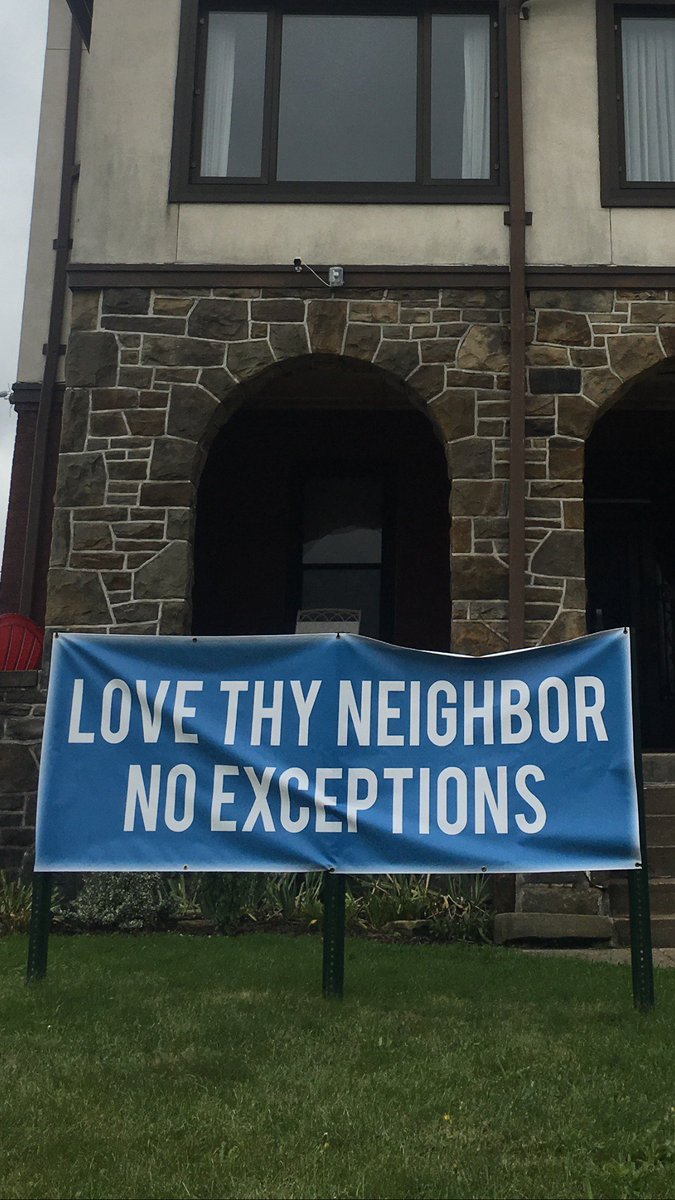 Tom Hanks tweeted this photo with the caption: "Again, to me this photo is the spirit of Pittsburgh- with a broken heart today for those in Squirrel Hill … Hanx"
On Twitter, most of the time, all I do is "Like" cat memes. So I was hesitant to press "Like" for a tweet by poet G. Calvocoressi, because their experience is so different from mine.
This poet inspired me during a MOOC (massive open online course) on poetry last year.
They wrote: "Full of love. Free of pronouns. Proud of this many gendered Vessel. Full of anger and fight and alive. Existing. Here. #TransRightsAreHumanRights #Resist."
How can I click "Like" on such a momentous, meaningful tweet, and in the next breath, "Heart" Curious Zelda?
Who am I? is what I thought.
This isn't my battle. I'm not a member of their community. Would it be seen as pandering? Not genuine? I thought about the old trope that posers use: "Some of my best friends are _________" Fill in the blank. Black. Gay. Jewish. Whatever group that person really disdains.
But the thing is….some of my favorite poets are members of the LGBTQ community: Carl Phillips, Danez Smith, Mary Oliver. So how can one express appreciation, even solidarity, when not part of the group in question?
By supporting their right to point out that the system isn't working on their behalf. In doing so, the gains they achieve might make life better for all of us.
I decided to press "Like." Everyone has the right to be treated with respect and live life on their own terms. Maybe in America, it doesn't feel like that notion is true, but I believe it will again someday. These may not be my issues, but one thing I know for sure: these are my neighbors.
Right after 9/11, I did a strange thing — I wrote a funny Halloween story. It was part of a contest, sponsored by our local PBS radio station. I wrote it because it occurred to me that horror had suddenly become such a routine part of our lives. We were living horror every day. What we needed, desperately, was laughter. My story was later read on air…but that's not the point. The point is, here we are again. And I haven't got anything funny to say.
It isn't funny that LGBTQ persons have been attacked in what was, for them, a safe space…perhaps the only one they had.
It isn't funny that they still need safe places in this day and age.
It isn't funny that, among the huge outpouring of love and concern over the deaths in Orlando, there are still a few bad seeds who so misread the Gospel as to believe that God does not love everyone, no matter whom they love.
It isn't funny that no matter how many people are killed by firearm in this country, we cannot effect meaningful dialog on gun control.
It isn't funny that I am certain our founding fathers did not mean for this to be so.
It isn't funny that the easiest way (by far) to murder so many people in so short a time is by gun.
It isn't funny that the NRA is happy to accept money from terrorists and the mentally ill.
It isn't funny that someone on the "no fly" list can buy a gun with ease and that so many of us refuse to even discuss why this isn't funny.
It isn't funny that the idiotic hysteria of "They're coming for our guns!" still seems to work. When has anyone come for your guns? When has that happened?
It isn't funny that we can wait for a marriage license, a driver's license, for the ability to buy the car we want with the options we want, but we can't wait a single minute to own a gun.
It isn't funny when a politician's takeaway from a mass murder is "I told you so."
But the least funny thing of all is that this will happen again. The US suffers more gun deaths than any first-world nation on earth — innocent people, little kids. And we won't even stop for a moment to analyze why because we're too afraid to. Not funny, folks. Not even a little.